As the 'Green' Industry changes in Michigan and throughout the Midwest we continue to expand and develop our services and offerings.
We currently offer:
Installation of Tree And Plant Material
Decks, Patios And Terraces
As well as:
Exterior Kitchens
Water Features
Custom Masonry
Pergolas
Stone And Brick Hardscapes
Outdoor Lighting
Irrigation
Fine Architectural Pieces
We continually hand select our plant and hardscape materials from local and Midwestern growers ensuring that your home or business will be enhanced with the most elite products on the market.
Our full replacement warranty covers plant material for a period of one year.
Please feel free to contact us with any questions.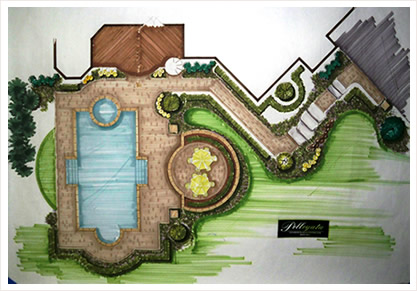 The Exterior Design Process:
After an initial consultation with one of our staff we will help you complete a concept that fits within your design and budget parameters. We offer concept abstract drawings or scale drawings still done with pencil and paper.
Drawing challenges the mind to be creative and lends the artists touch to each project individually. Often times an abstract concept helps to develop a customers goal on paper and offers clients the ability to change installations as a landscape develops in real time.
For each project, we employ a combination of hand-drawn and computer-assisted design which reveals the aesthetic and specific details before we begin our work.